Covid-19 has taken the world by storm, and a myriad of markets are being impacted significantly. Businesses of all sizes are having to implement layoffs, terminations and furloughs to stay afloat, even with the federal relief being offered. At the crux of it all is health care: where we look to save the lives of our friends and loved ones, where we rely on accessibility to care, where we put our hopes for a cure.
Some would argue that health care in the U.S. was broken before the pandemic hit. Whether you agree with that or not, Covid-19 has no doubt highlighted gaps in the health care system and our abilities to handle a catastrophe. Health care providers, insurance carriers, employers and consumers will all be impacted even after the dust settles and the urgency diminishes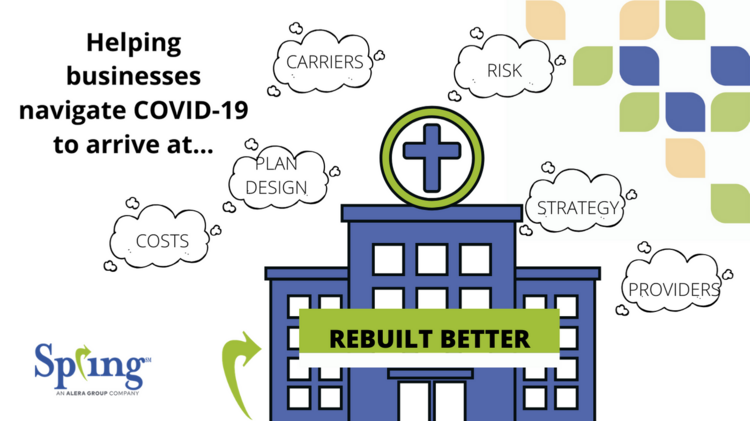 . Here are seven ways we expect the health care markets to be affected.
1. Telemedicine is here to stay
While early adopters were already utilizing telemedicine, everyone has come to see the real value of it. Covid-19 has instilled in most people a certain degree of germaphobia that isn't likely to go away any time soon, so many are wondering why they would go to a hospital or clinic to get a diagnosis, consultation or prescription when they don't need to. That said, there is a demographic divide here: older generations, who often have more medical needs and appointments, are generally less comfortable switching to a digital format.
A great advantage of telemedicine is its ability to even the playing field in terms of access. It doesn't matter if you live in Manhattan or the rural countryside, you can get the same care at a comparable price. This is extremely important as we see the ways in which Covid-19 has widened the socioeconomic divides in our country.
Telemedicine will rise in popularity for mental and behavioral health issues as well. This at a time when anxiety, depression and hardships are at a recent high. We also anticipate a boost in concierge telemedicine services as well.
An increase in telemedicine utilization may yield cost savings in the long term. In the short term, however, details are blurry in terms of pricing for visits. Further, some people now using telemedicine may not have otherwise seen a doctor at all, which skews utilization rates.
2. Deferred health costs
There are still a lot of unknowns regarding the impact Covid-19 will have on health insurance costs. At a high level, we estimate the net impact on the cost of medical claims over 12 months (April 4, 2020 to March 3, 2021) for an "average employer" to be an increase of 6%-8%, with most simulation results in the range of 2%-14%. Member demographics, location and industry will impact these projections. Further, our proprietary modeling shows that short-term drug spend is up, while short-term medical spend is down.
3. Cost shifting
The April unemployment rate for the U.S. was 14.7%. For comparison's sake, the average unemployment rate for the year of 2019 was 3.6%. This uptick in unemployment will cause many who were previously covered under employer-sponsored health plans to move to governmental programs, such as Medicaid or Medicaid, if eligible, as these are much less costly than the employer-sponsored plan's COBRA. In fact, commercial prices are often far more than 50% above Medicare payment rates according to the Medicare Payment Policy report to Congress. As the unemployed struggle with finances and find themselves in different income brackets, this shift will be significant.
As a result, health care facilities, which are already losing revenue due to the lack of elective procedures during the pandemic, will face further financial woes because they make less money from patients who are insured through governmental programs than they do for those insured commercially. Meanwhile, the commercial insurers (i.e., Cigna, Blue Cross Blue Shield), may actually save money amid the crisis due to a lower volume of claims (which goes back to the delay of elective procedures). This point is important for employers to be aware of as a negotiating tactic as they approach their plan renewal.
4. Expansion of coverage
With the government and carriers making exceptions to existing health plan policies through 2020, it is clear that we were dealing with critical coverage gaps, and we anticipate these areas to stay written into health plans. This goes for telemedicine benefits, counseling and mental health, extra prescription refills, relaxed utilization management requirements, specialized treatment, vaccines and changes to flexible spending account (FSA), health savings account (HSA) and health reimbursement arrangement (HRA) eligible purchases. The result will be an overall broader offering of benefits at a higher cost.
5. Push for more government involvement
Throughout the crisis, we have learned that employer-sponsored programs can only get us so far. Especially with election season upon us, we're predicting a jump in support for programs like Medicare For All, where a public program better suited and funded for "unprecedented circumstances" would already be established. We can see this in the recent grant of additional funding for Medicaid.
6. Greater focus on claims control strategies
We expect employers to take a closer look at how they can minimize volatility and improve population health management. This might involve a stronger emphasis on risk management strategies and programs and advanced data and reporting procedures. More companies will be turning to consultants and actuaries for things like trend analyses, audits, repricing and projections. We anticipate that more businesses will be considering population health management programs as a long-term strategy for a healthier population that will, in turn, lower claims costs and lessen operational risk in the face of a similar catastrophe. More than ever, the key to a business's success will stem in part from its ability to encourage and facilitate a healthy workforce.
7. Rethinking long-term care
Among the many hardships the world faces today lies the fear instilled in those who have loved ones in nursing homes or like facilities. Based on the observations from the current crisis, they are hubs for exposure and infection among an already high-risk population. We predict the health care system of the future to include an overhaul of home health care programs and assistance, as many will not feel comfortable in larger care facilities, something once commonplace.
In summary, the outlook for the health care industry post Covid-19 will be a mix of positives and negatives. We do expect a hike in plan costs and mentality shifts that move people beyond traditional health care. Further, organizations of all types will be carefully analyzing their health care spend and loss history, gaining a better understanding of where each dollar is going and if it can be spent more strategically. These factors and more will constitute what will gradually become the new normal.
The following two tabs change content below.
Karin Landry
Managing Partner
at
Spring Consulting Group, LLC
Karin Landry, ACI, CLTC, GBA is the Managing Partner for Spring Consulting Group. Karin has over 25 years of experience in the insurance, health care, risk financing, retirement and benefits industries. She is an internationally recognized leader in captive insurance strategy, benefits and financing. She is Past-Chairman of the Board of The Captive Insurance Company Association and a member of the ERISA Industry Committee and was recently appointed to the Board of Directors for Fallon Community Health Plan. She is also a Professor of Employee Benefits and member of the finance committee for the International Center of Captive Insurance Education part of the University of Vermont. Karin's expertise around benefits allowed her to co-author a white paper for Business Insurance Magazine titled "Captives for Benefits: How to Use a Captive to Save Money and Enhance Benefits Coverage", which is currently a top seller. Both Vermont and the US Virgin Islands asked Karin for input and guidance with their recent legislative changes. Prior to joining Spring, Karin was President of Watson Wyatt Insurance & Financial Services in the United States and Head of the Health & Welfare division for the eastern region.
Latest posts by Karin Landry (see all)